Stepping and Blending . . . Second Edition is a culturally competent and biblically sound educational and counseling resource. It is designed to help African Americans prepare for marriage and remarriage that create a stepfamily.
Intended audience is the unmarried, divorced, widowed, pastors and church leaders, professionals, those living in stepfamilies, and seminaries that train ministers.
Blacks have the lowest marriage rate of all ethnic groups, the highest divorce rate, the lowest remarriage, but the highest re-divorce rate.
Two thirds of Black marriages end in divorce and two out of three children experience their parents' divorce by age sixteen.
Program content includes a Divorce or Relationship Recovery Program, divided into five modules in Book I, and a Premarriage Preparation Program divided into six modules in Book II.
The "Black Church" is identified as the main institution to prepare families for marriage. Seventy percent of African Americans belong to the church and eighty four percent consider themselves "religious." If Black Church leaders do not take the lead role in preparing couples for marriage and family life, who will?
Commissioned to Write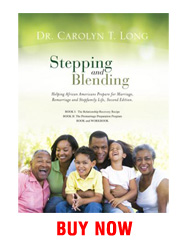 The writing of these books was not my idea. It was certainly not my idea to write a Christian book specifically for African Americans since I would in no way want to do or say anything that might smack of divisiveness in the body of Christ. As the Lord has prompted and guided me over the past decade, however, I realize it is not about highlighting race in a way that sets us apart from our Christian brothers and sisters of other races and cultures. It is about understanding and highlighting the uniqueness of African American history and culture, and addressing that specifically in a way that reaches and ministers to African Americans where they are. As one who shares the history and culture, I understand and identify with my African American brothers and sisters.
And having said that, the information included in these books about recovery from the divorce process, grief and mourning, childrearing, the information on blended or stepfamilies, on marriage, the messages on forgiveness, depression, the Bible studies  – all of this information is written for a universal audience because the human experience is universal. The experience of Christians, regardless of race or culture or national origin is universal, because there is one body of Christ. Except for the information written specifically about and for the African American, any person can pick up these books and be blessed by their content, especially members of other minority groups who share similar family and cultural values as African Americans.
Because religiosity is so imbedded in the history, culture and life of African Americans, there could be no writings for or about African Americans without embracing the whole area of religion. These books were envisioned and inspired by God and therefore written with the Christian, "spiritual" or "religious" person in mind, which includes us all. I understand that the majority of African Americans embrace Christianity, but certainly there are many African Americans who embrace the Nation of Islam, as well as other religions. It is my prayer that these books will be read by those whose spirituality may not necessarily mean Christianity, since the information is practical as well as spiritual. Whether you are Christian or whether you subscribe to another religion, the basic concepts shared and the format for healing and starting over will work for you.
It has only been in the last decade that I realize that God has not just called me to minister to the body of Christ, but specifically to the African Americans in the body of Christ. He knows that He can trust me to love the body of Christ, but He also knows what He has invested something in me that was meant for this special group of people. These past few years have been a time of personal rediscovery and a time of embracing my history and culture in a way that I had not done before. The burden in my heart for African American families, for stepfamilies that struggle, and especially for African American stepfamilies that struggle could only be satisfied by my agreement with God not to quit until these books were completed. My arms were too short to box with God, so He won.
The Design of Books I and II
 Stepping and Blending  . . . Second Edition was designed as a resource to help African Americans prepare for marriage and stepfamily life, whether the marriage will result from a remarriage following divorce or the death of a spouse, a first time marriage where one or both of the partners have children by a previous relationship, or other circumstances where a marriageproduces a stepfamily.  Such a resource is necessary because African Americans get married less often, get divorced more often, get re-married less often, but get re-divorced more often in the case of remarriage.
This is true for several reasons. First of all, many persons move into a second or subsequent marriage as a rebound from the previous failed relationship without giving themselves time to grieve and heal from the loss of that relationship. Secondly, where there are children, be they minor or adult, their very presence creates special circumstances that complicate the new family situation. Finances and the unclear boundaries around the marital couple and family unit are two additional factors that make marriage difficult the second, third, fourth, or other time around.
These books are written to you and for you. They are written for a variety of audiences, starting with the unmarried person, by virtue of never having been married, having been married and divorced, separated, or in fewer cases, widowed, and who desires to be healed, married or remarried. Secondly, Book I is written for the individual who is moving into the new and challenging phase of life that comes with living a successful single again life and who may not desire to be remarried.
These books are further written for those individuals who already live in a stepfamily, for couples who are considering marriage, for support groups and ministries formed to help stepfamilies, for professional counselors, therapists and pastors who work with blended families, for church leaders who produce and carry out premarital and pre-re-marital programs, and for Bible schools or seminaries who are preparing men and women for ministry. This includes not just the African American spiritual leader or professional, but anyone who serves or ministers to African Americans in a spiritual, professional or community setting.
Stepping and Blending . . . Second Edition, Book I, the Recipe for Relationship Recovery has fifteen chapters. Part I, chapter one introduces and defines the problem of marriage, divorce, remarriage and re-divorce in our society in general, for African Americans and for Christians, examines the information on premarital and re-marital education for the population in general and for African Americans, and introduces the concept of divorce or relationship recovery.
Part II of Book I, which consist of chapters two through seven, examines the impact of the problem, by looking at the issues created by divorce or the failure of a significant relationship. It defines grief and examines how grief is experienced in our society in general and by African Americans in particular. It defines recovery or the need to heal from the previous relationship before moving onto another one. African American family values or strengths provide a backdrop from which to examine and understand the African American family, and the impact of remarriage and stepfamily upon the family. It outlines the issues that come with remarriage and stepfamily life that cause remarriages to be different from first time marriages.  The African American or "Black Church" is identified as that institution or place for helping to prepare these families for this venture in their lives.
Part III of Book I is made up of eight chapters. It introduces the five modules designed to help adults and children grieve the loss of their previous family, and is intended for anyone who has experienced a divorce, a marital separation or the break up of a significant relationship. Chapters nine through fifteen explore the nature of loss and grief; the stages of grief and mourning; the divorce or failed relationship as a major life loss to be grieved; the indicators of recovery; the components of a healthy relationship, what to do with the time in between the past and next relationship; and some final words that focus on the Recipe for Relationship Recovery.
The companion and continuation book, Book II, The Pre-remarriage Preparation Program, consists of six sessions and covers a variety of necessary topics for couples who are getting married for a first or subsequent time, with the emphasis on the creation of a stepfamily system. Overall topics include the source and origin of marriage; critical issues and unique challenges in remarriage and stepfamily life; African American history and the impact of racism and discrimination upon marriage and family life; a major section on social skills needed for positive relating; how to address the big issue of money, as well as a variety of final considerations to examine before the glorious day.
Book II has a two-fold purpose:
To create a pre-remarriage packet for the one who is remarrying following divorce or death of a spouse
To create a marriage preparation packet for the one with children who is marrying for the first time, and thereby creating a blended or stepfamily
It is more appropriate for persons who
Are in a committed relationship and who are moving toward marriage
May not be in a committed relationship at this time, but because of their age, will likely consider marriage in future years
Have married without the benefit of preparation and find themselves desperately needing someone to throw them a lifeline  
Books I and II can be used in a Singles Ministry, a Marriage Enrichment Ministry, in an overall Family Life Program of a church, in Bible schools and seminaries that prepare men and women for ministry, in colleges and universities with African American students, or can be purchased and used in a self-directed study. They can also be utilized as a curriculum to be taught wherever potential or actual African Americans frequent. While the church is the number one targeted location, community centers, barbershops, beauty salons, public health and social service departments are other locations that can also be targeted.
Books I and II are equipped with three appendices. These appendices appear behind Book II. They are:
APPENDIX I:  Additional Information on Goals and Goal Setting
APPENDIX II:  Salvation, Being 'Born Again' or Becoming A Christian
APPPENDIX III: Annotated Bibliography onDivorce and Remarriage in the Bible.
How To Read These Books
These books do not read like a novel.  Both books are written to give you someinformation, which requires your active participation in order for you to gain the most benefit.  Since they are designed as tools to inform and instruct, they are therefore to be read as you would a self-help, instructional book whether you are reading them as part of a class or group study or as an individual seeking information on the topic.
Your active participation comes by responding to the questions or completing exercises throughout the books and at the end of each chapter. Treat the reading of these books as if you are taking a course to learn about a subject. The learning process requires your active participation and feedback. So when you see YOUR TURN . . . after each chapter, then it is YOUR TURN TO REFLECT AND RESPOND. You will need a journal to write your answers, as the few lines provided may not give you enough space. A journal can be a fancy, masculine or feminine book that you purchase at a bookstore for a cost of anywhere between $5 and $30+, or it can be a spiral notebook from the Dollar Tree/Store. The goal is to have additional space to write your reflections and responses.
When I think of study, I think of sitting at my desk, my comfortable recliner, or in my bed with my laptop and my lap desk, my book, my Bible, something to write on, and something with which to write. I encourage you to choose a place and a time where you can study as you read these books. I pray that you will be inspired to dig deeper and to explore some of the references mentioned as you seek additional information beyond what is written in the pages of these books on this very broad topic. God said, "My people are destroyed for lack of knowledge . . ." (Hosea 4:6). Get the knowledge and flourish and grow within yourself and your relationships.
As a final piece of information about how these books are written:  In many places, you will see the pronoun he to represent men and women (mankind) which helps the reading of the book to flow easier. If there is a distinction that needs to be made between men and women in a particular situation, I have used both pronouns he and she.
Be blessed and informed as you read and study. Let the reading of this book be a life transforming experience for you.
Dr. Carolyn T. Long, LCSW
Chesapeake, Virginia
April 2010